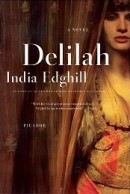 DELILAH
Two gates the silent house of Sleep adorn:
Of polished ivory this, that of transparent horn:
True visions through transparent horn arise;
Through polished ivory pass deluding lies.
John Dryden, Aeneid, Book VI, 894
PROLOGUE: THE GATE OF IVORY
Although he knew many songs, he was famed for only one. Once that song had been his alone; now many sang it, but that did not matter to him. The song only he could sing truly remained his. No matter what else he sang, no matter how late the night grew, never would men or women -- and as he grew older, he preferred to sing to the women -- release him until he had sung that tale.
Always different, suited to the hearts and minds of his audience. Always the same, in the end.
And as the stars burned overhead, he would yield to those who listened; Hebrew or Philistine or strangers upon the endless road.
"Listen and hear of the deeds of Samson, strong and bold. A man who slew many men, a man whom many women desired. A man who loved a woman named Delilah, a woman who brought him low. A woman who gave Samson into the hands of his enemies -- "
And men or women, Hebrew or Philistine or stranger, they listened. For everyone had heard tales of Samson, and many knew that only Orev could offer them the truth. Had he not walked beside Samson, and seen with his own eyes the wonders he now sang to them?
Sometimes, as he sang, Orev marveled at his own tales. That golden time seemed long ago and far away, now, and truth elusive as a ghost. . . .
#
PART ONE: NEW MOON
DELILAH
Long ago and in another land lived a maiden dark as night. Night she was named and night she was. And this maiden served a goddess bright and burning as the sun, a goddess soft as shadows and midnight….
#
Once I blamed the gods for the pain I endured. Later I blamed Samson himself. Only now, too late, did I lay the blame for what came to pass at the feet of the one whose fault it truly was.
Mine.
Oh, it was the gods who began it. A game, to them - what are men and women to those whose breath is the wind and whose eyes are stars, whose blood is Time itself? A jest drew them to my birth, urged them to bestow upon me their double-edged gifts. Jest and play to them, to lay such a boon upon a girl new-born, god-begotten daughter of chance.
I was named for that boon: Delilah. Night-hair.
But that name never seemed to fit me well, despite my gleaming midnight hair. For always, from the moment I drew breath, I, night-born, was drawn to the day's light. To the sun.
That, then, is what began it, set my feet upon the path that led me to where I now stood. After all that had passed, all that I had paid in tears and in desire, I now stood alone - alone before a silver mirror, a keen-honed knife close to my waiting hand.
#
I was a child of the Grove, begotten on a Full Moon by a stranger upon the first and last night my mother ever spent in the Lady's Grove. To be conceived beneath the Full Moon was a blessing, a sign of Our Lady's favor. Not until I was a woman grown did it occur to me to wonder why a Full Moon child had been named instead for moonless Night Herself. The Temple did not encourage such unruly thoughts; those of us who dwelt within its peace were meant to serve, not to question. And from the day I took my first steps, I dwelt in the Great House of Atargatis in Ascalon, pearl of the Five Cities.
The Five Cities of Philistia ruled the rich land of Canaan, their laws governed all from the eastern hills to the sea that stretched beyond the sunset. Although a man or a woman governed each of the Five Cities, it was the city itself that was Lord or Lady. Decrees were made, laws proclaimed, and justice rendered in the name of Lord Gath or Lady Ascalon, Lord Ekron or Lady Ashdod, or Lord Gaza. By tradition, the highest ranking priestess wed the Lordly cities, and the highest ranking priest became the consort of the Ladies.
It was the mortal consort of the city who sat in judgment, who listened to the arguments and pleas of the council of nobles and merchants. Sometimes I dreamed of becoming Priestess-Queen to one of the Cities - but then I would have to leave Ascalon to dwell in Gath, or in Ekron, or in Gaza. I could not imagine ever abandoning Lady Ascalon; no, not even for another of the Five. I remembered no other home than Ascalon's Great Temple of Atargatis, for my mother had given me into the Lady's hands at Her own bidding.
"When I was fourteen, Delilah, I went to Our Lady's House, and the oracle asked the sacred fish to look upon my future. I was told that Our Lady would grant me long life and many children in return for a jewel of great price. 'But I own no such jewel,' I said, and the oracle looked again into the pool and watched as the fish swam, and said 'The Lady will provide the prize she wishes you to surrender to her. When you hold it in your arms, you then must choose.'"
My mother sighed, then; she always did when she spoke those words to me. For she was permitted to visit me once each season, and each time she did, she retold the tale of my begetting, as if I might have forgotten it, or her. I always sat quiet, and let her talk - although my mother was little more to me than a half-remembered dream. She was a married woman now, wed to a wealthy, indulgent merchant who had fathered half-a-dozen hearty sons upon her. When she came to visit me, she always wore a gown of gold-fringed linen fine and soft as water, and gems glowed like small bright fires against her skin.
But despite all she had been granted, my mother still looked upon me with hungry eyes. For she had traded her first-born daughter for her own future; never again did she bear a girl child. The bloodline of her mothers would die with her. Now that it was too late, she mourned that eternal loss.
"Still," my mother said, "you seem happy here, my daughter."
"I am not your daughter. I am Our Lady's daughter," I reminded her, prim and pious as a temple cat, and my mother's eyes glinted bright with unspilled tears. But her grief did not move my heart; not then. My mother had made her choice, and must live with the life she had created for herself. I wish, now, that I had been kinder to her. "Of course," she said, and managed to smile. "And you are already grown so tall - and so graceful. You will dance well before Her, Delilah."
"That will be as Our Lady wills." Although love of the Dance sang in my blood, and already my body swayed easily to music, young priestesses were not encouraged to flaunt their beauties or their talents. Not until we were fourteen were we permitted to look upon our faces in a mirror. I would not be given that privilege for another four years. My studies consisted of learning how to read and to write, to know the uses of herbs and flowers, how to create scented oils, how to choose a true gem from a false. How to please Our Lady in greater things would be taught later, when I passed at last through the Women's Gate.
I yearned for that far-off day - in that I was no different from all the other girls dedicated to the Temple. To walk through the Women's Gate into the Lady's Courtyard, to wear Her scarlet girdle clasped about my waist, to paint my face into Her image, these things would prove my status as one of the Lady's Beloveds, whom all the world desired….
"Delilah?" My mother's voice held an odd mixture of timidity and rebuke. Clearly I had not heard whatever words she had spoken to me. But it was not her place to chastise me -- a fledgling priestess -- for error, and we both knew it.
I did not look at her, and I did not speak. Instead, I gazed down at my hands as I twined the end of my long braid about my fingers, over and through, as if I played at cats-cradle with my hair. The scarlet cord that bound my dark, tight-plaited hair gleamed bright as blood in the sunlight. After a moment, I broke the silence between us with a question, one I suddenly knew I must ask, even if my mother did not answer. I lifted my head and stared into her eyes.
"If you had known you must give me away, would you still have asked Our Lady for the same boon?" For the span of forty heartbeats, my mother did not speak. Then she said, "That is a hard question, Delilah." She slid her eyes away from mine, and I knew her next words would be lies. "How could I have given you up, had I known?"
You should have known. What else would be a jewel of great price that you would hold in your arms? I looked at my mother; she had turned her face away, staring at the painted flowers upon the courtyard wall so that I could not look into her eyes. But that told me what she never would admit in words. You did not want to know.
Pain clutched my heart for a moment, only to be swept away by anger. My mother had tricked herself, and now blamed everyone but herself for the price she had paid. I will never do that, I swore silently. I will never deceive myself and then blame the gods for what I myself have done.
"Yes," I said. "How?" And I rose to my feet, smoothing my skirt so I need not look upon my mother's face. That was cruel, but I was very young, and the young are very cruel, especially to those who have hurt their hearts. Still refusing to meet her eyes, I said, "It is time for me to help carry in the offerings. I must go."
"Of course," my mother said. She hesitated, and then set her hands upon my shoulders and kissed me upon the forehead. Another pause, and then she added, "I am glad you are happy here."
"Yes," I said in a voice cool as the moon, "I am happy here."
Of course, I knew nothing else but Temple life, and no one here was unkind to me. No one here would bargain me away for her own gain -- or so I believed then, when I was a child, and still trusting.
My mother slowly walked away, to the gate that led to the Outer Court, where all worshippers were welcome. At the gate itself she paused, and looked back; I saw this through my lashes, but refused to lift my head and let her look full upon my face. She opened the door in the gate and stepped through, out of the inner Temple. To my shame, I was glad to see her go.
She did not want me enough to guess what it was she must pay for her good marriage and her many children - all of them sons. I would have guessed. I would have struck a better bargain with Our Lady Atargatis.
And if I ever conceived and bore a daughter, no power on earth or in heaven would make me give her up - even to a goddess. So I swore, hearing only my own whispered vow.
I was too young to hear the gods laugh.
#
All this makes it sound as if I were unhappy living in the goddess Atargatis's Temple, unhappy in Her service. But I was not. Our Lady's House was a joyous one; She liked laughter and love about Her. A child given into Her care - any child, from peasant's daughter to princess - was tended as lovingly as a rose from far Cathay. Children were Her treasure. Girls reared within Her walls heard nothing but soft words and felt no touch that was not kind. Our Lady's discipline was that of love; we all longed to please Her.
But even so, a part of my heart yearned for my real mother - my mortal mother, the woman who had chosen to bear me beneath her heart for ten full moons, who had risked death to give me life.
And who had bartered me for riches, and for a good marriage before I even was conceived.
And now she has not even one daughter to show for it. At least I had not spoken those cutting words aloud; at least my mother did not hear that ultimate cruelty. Nor did she look back again before she passed beyond the gate, or she might have seen how my lower lip trembled, and tears pricked behind my eyes.
"Delilah!" A rustle of flounced skirt, a chime of ankle-bells, soft-skinned arms wrapped about me. "What troubles you, little goddess? What makes you weep?'
Klyti, the novice priestess everyone called Golden Bells for the sound of her laughter, hugged me close. Sweet as honey and soft as cream, and with a heart as kind as that of Atargatis Herself, Klyti cosseted the younger priestesses as if she were their mother, and tended the older priestesses as if she were their only daughter. To most I would have denied being troubled, or weeping, but to remain in Klyti's embrace, I willingly abandoned bravery.
"My mother is gone again," I said, and when I thought of how my mother had walked away, and how Klyti held me to comfort me, too-easy tears slid down my cheeks. Of course the tears drew the kohl outlining my eyes after them, leaving night-shadows upon my skin.
"No, Delilah." Klyti cupped my chin in her hand and lifted my face until I looked into her eyes. "Your mother is here. The woman who bore you no longer matters. Atargatis is your true mother. She is within your heart, always. Never doubt that."
Klyti took the end of her crimson veil and wiped the tear-wet kohl from my cheeks. "There, now you look less like a honey-badger. Now tell me truthfully, sweeting - how did your mother's words pain you? What did she say that made you cry?"
Already I could barely remember why I had wept, so I only shook my head. Then I leaned my cheek against Klyti's smooth breast. Beneath my ear, I could hear and feel the beating of her heart. I sighed, and snuggled closer to that steady, measured rhythm. It was hard, now, to remember how miserable I had felt only moments before. What did it matter if my mortal mother abandoned me? I was Atargatis's Dove, a daughter of the goddess and sister to all who wore the goddess's scarlet girdle about their loins.
"Delilah?" Klyti's voice was soft, coaxed me to tell her all my secrets.
I did not tell all of them, but my woeful recitation of my childish grievance revealed enough to Klyti that I never saw my mother again -- not in Our Lady's House, at any rate. Later, I learned that Klyti had told my tale to those charged with the care of the New Moons, and my mother was forbidden to visit me any more. And for all my hot grief that last day I saw her, I must confess I barely noticed that my mother no longer came to see me. I saw her again only when I had grown into one of the Temple's jewels, and her husband made a rich offering to the Temple so that I danced at my half-brother's wedding.
But that was years later, and by then I had nearly forgotten my mother, nor did I care whether she loved me or not. The day I wept my woes to Klyti, I unbound my pain and anger, and my bitter words burned to ash like freed embers of a long-banked fire. When I had finished speaking I felt lighter, having given up the weight of my grief into another's care.
Klyti smoothed back my unruly hair and then laid her hand cool upon my cheek. "You see? You have only to remember that this is your home, that Our Lady is your mother, and we are all your sisters. Now run along and find something amusing to do until sunset."
At sunset all the priestesses, even the youngest, who were spared the midnight prayers, gathered upon the rooftop to sing welcome to the Evening Star. I liked singing, liked the thought that my small voice was heard by the stars themselves. I was fonder still of the dawn prayers, of singing the sun into the sky, until golden light spilled over the hills and glittered upon the sea beyond the city wall.
Yes, I best loved to sing until the sun burned away night's shadows, and revealed the vast city's beauty to the waiting day.
Klyti had bid me amuse myself until sunset, so I decided her words gave me leave to wander away from the courtyard of the New Moons, sanctuary of the youngest and newest of the Temple's ladies. The Court of New Moons was bright and filled with things to both amuse and teach the small girls who dwelt there, but it had been my home as long as I could remember, and I wished to explore the world that lay beyond its high protecting walls - without an elder's hand guiding my steps, facing me only towards what they wished me to see. Now, with Klyti's unwitting permission, I ran hastily past the closed cedar gate and slipped through the small door set within the wall beside the impressive barrier.
Once out that door, I stood in the long corridor that led past the Courts, ranked in the precedence of those who inhabited them. At the far end, nearest the kitchen wing and the gardens, was the Court of Service, where the women lived who desired to dwell within the peace the Temple offered but who were not Called further. They served the Lady's earthly needs; even the gods require mortals' aid.
My home, the Court of the New Moons, lay between the Court of Service and the Courtyard of the Rising Moons, those girls who had passed through the first initiation and chose to continue upon the Moonlight Path. That was my heart's desire: to dance the Path that led to Our Lady Herself. To someday be the High Priestess of the Great House of Atargatis; Goddess-on-Earth and Lady Ascalon incarnate. I prayed daily and nightly to Our Lady that I might gain such honor, that I would be forever remembered, and begged Her to grant my fervent petitions.
I had not yet learned to be careful what I asked of the gods.
I ran lightly past the Rising Gate, the silver charms and carnelian amulets sewn into my skirt chiming to the rhythm of my bare feet upon yellow tiles. The Lady's Luck favored me, for the Gates to the Full Moon and the Dark Moon Courts also were closed. It was Tammuz, hottest month of the Season of the Sun, when the days stretched longest, and it was near mid-day, when most of those who dwelt within the Temple withdrew to shaded gardens or to terraces hung with wet reed curtains that caught and cooled summer breezes. No one saw me; I made my way unchecked to the Passing Gate that led from the private courtyards to the Temple Courts beyond.
I had a goal: the shaded Court of Peace that lay between the High Priestess's own Court and the inner Temple itself. I wished to gaze upon the oracular fish that swam in the sacred pool. I had never seen them, although of course we heard many pious tales of the wisdom imparted by the revered creatures.
But I did not gaze upon the Lady's Fish that day. For as I reached my hand to the moonstone-studded bar that held the Passing Gate closed, the pale bar lifted and the Gate swung open. To my dismay, I found myself facing Chayyat, priestess in charge of the New Moons. I braced myself for a scolding, but to my surprise, Chayyat looked pleased to see me standing there at the Passing Gate, where I had no particular business being.
I remembered enough of my manners to fold my arms over my breast and bow my head. As I lifted my eyes to Chayyat's face, she inclined her head and touched two fingers of her left hand to her heart in response.
"And here is one of your new sisters now," Chayyat said, and pushed forward a girl who had been hidden behind the priestess's seven-tiered skirt. "Now stop weeping, child. Here you will soon learn to be happy." The priestess nodded to me and stepped back, leaving me staring at a girl perhaps a year older than I.
She was thin as a starved cat and dirt dulled her skin. Hair that seemed the color of summer dust tangled in a mat at the nape of her neck. Her eyes glowed pale as a dawn sky. Tears hung upon her eyelashes like heavy raindrops.
"Aylah has just come to Our Lady's house," Chayyat said. "I give her into your care, Delilah. She is to be to you as a true sister. Take her to the Court of the New Moons and tell Meitilila to do all that must be done for her." A brief pause, during which the only sound was the new girl's sobbing breaths, then Chayyat added, "Summati bought her in the bazaar, so she comes to us with nothing."
It grieves me to say that my first thoughts, when I looked upon my new Temple sister, were cross and ungenerous. Now I shall lose my day's freedom! Why should I have to share my hours with HER?
More, despite her hunger-sharp bones and her tangled hair, Aylah was beautiful. Even my jealous eyes could see that once she had been freed of dirt, and fed enough to smooth out the lines of bones too close beneath her skin, she would glow like a rare pearl. The Temple had accepted her as a New Moon with no dowry, no offering, save that untouched beauty. Or rather, the Temple had paid for the privilege of claiming her for Atargatis.
The Temple had not wished to take me at all; the Priestess Who Chose had seen even when I was a small child that I would never be called "beautiful", save by those who wished to flatter. Only my mother's laying her own dowry gold into Our Lady's hands had made me acceptable to the House of Atargatis. Sometimes I thought I remembered my mother begging she who Chose to take me into the Temple, for only then would her vow be fulfilled and her future granted unto her.
Or perhaps I had only heard the story so many times it had become memory.
Now I faced what I wished I had been: a girl whose beauty unlatched doors closed to those less blessed by the gods. I looked upon Aylah's face and knew my dreams of becoming Goddess-on-Earth were as much a fantasy as my mother's dream of regaining my heart. Who would choose me when true beauty stood beside me, waiting?
It takes many words to explain how I felt that day -- it took only half-a-dozen heartbeats to live through that moment, to know what it meant for me.
"Delilah." Chayyat's tone reminded me that I was only one of the New Moons, not yet even a novice priestess -- and that she commanded my obedience.
I forced myself to think of my anger and jealousy as two cords, one scarlet and one black. When I saw the cords as clearly as if they lay before me upon the cool stone floor, I bound them into a knot, imprisoning my unworthy emotions. Then I smiled and held out my hands to Aylah.
"Welcome, sister," I said, and Chayyat's approving smile gave my words added warmth. "I am Delilah. Come, I will show you where you shall live now."
Silent, Aylah followed me as I led her into the Lady's House, past the closed gates to the Dark Moon and the Full Moon courtyards. I tried to take her hand, but when my fingers closed about hers, she slid her fingers from my grasp. That first day, she was cold and elusive as winter wind.
But I did as Chayyat had bidden me; I took Aylah into my care. One cannot always choose one's sisters.
"This is the main corridor -- if you go that way, it leads past all the courtyards to the doors into Our Lady's Temple. If you go the other way, you will find the gate to the Street of Songbirds. To pass that gate is forbidden to us. We are only New Moons; we are not permitted to leave the Temple." I glanced sidelong at Aylah, but still she said nothing.
It is hard to walk in silence beside a silent companion. To fill the empty air, I chattered away, my words coming swiftly as a hoopoe's cries. If Aylah listened, she knew all my life and all the history I knew of Ascalon's Great Temple before we had walked half the distance to the Court of New Moons.
There we climbed the corner stairs to the second floor, and I showed Aylah my room, which I supposed would now also be hers. As a true sister to you, Chayyat had ordered; a sister would share my bedchamber.
Still Aylah said nothing, but her eyes widened. I later learned she had never seen a house of brick or of stone until she had been brought to Ascalon. Her own people dwelt in huts of earth, or in caves, if they could find some that had not been claimed by bears or wolves. She had never looked out of a window, either; when I beckoned her over to the opening and pushed aside the blue linen curtain, she peered out and then drew back like a startled fawn.
"It is all right," I told her. "No one can see us." The Temple ensured that no unhallowed eyes spied upon its priestesses. My window looked inward, not out -- I saw only Temple roofs and the tops of fruit trees in the Courtyard gardens. To see more than that, I had to go to one of the corner towers and climb to the rooftop. I told Aylah this, and her eyes grew round as moonstones. "Would you like to go up to the rooftop?" I asked, and after a long pause, she nodded. But still she did not speak; I wondered, now, if she were mute.
So I ceased trying to make her answer me in words, and took her hand, cautiously and gently, as if she were fragile as the glass vial Klyti kept her Egyptian perfume in. I was about to lead Aylah out of my room, take her up the tower stairs to the roof, when I realized her hand was cold as well as bone-thin. I truly looked at her, and saw the grime under her nails and the knots and tangles in her dust-dulled hair. And for once, I thought before I acted.
"You must have a bath, and food," I said, "and your hair -- " I wondered if her dirt-matted hair could be combed out at all; I hoped it would not need to be shorn short. "And clothing, you must have something proper to wear."
The Lady only knew where the grubby length of cloth wrapped about Aylah's too-slender body had come from, or what had turned it that dull mud color. I only knew that until she was clean, my new sister was not sitting upon my cushions or lying in my bed.
"Come with me," I said, and, still silent, Aylah obeyed.
#
When she set eyes upon the Lady's newest Moon, Hattah, the woman in charge of the baths -- not the ritual baths, but those for the mere cleansing of the body -- was horrified. "By Our Lady's Breasts, where did this stray cat come from? Well, I suppose it is up to me to turn her out of here sweet and clean as spring water." She studied Aylah disapprovingly, dismissed her garment as too filthy to trouble over, and eyed the knotted mass of her hair.
"Don't cut her hair!" I don't know why I was so insistent upon saving Aylah's hair. After all, shorn hair grew again.
"We'll see," was all that Hattah would promise.
My new temple-sister remained silent throughout the long process of scrubbing her clean enough to look like a human girl rather than a mud-puppy. Even when two slaves peeled the filthy cloth from her body, Aylah did not utter a sound.
She endured the series of baths, moving and turning as ordered. After three soakings and soapings, Aylah emerged clean at last --
"But her hands and feet might be made of horn! She must have run about barefoot on stones to create such hardened skin." Hattah pushed Aylah onto one of the benches and summoned maidservants to rub scented oil into the rough skin of her hands and feet. As the maidservants labored over the marks of Aylah's past, Hattah set her hands to the matted mass of Aylah's hair.
Hattah tried to untangle the knots with her skillful fingers, without success. At last she shook her head. "I think we must cut all this off, and let her hair begin again." Hattah reached for the ivory handle of the knife that lay among the tools with which she created beauty. The bronze blade curved like a sickle, and its edge was new-honed each morning. The blade could slice through any barrier of flesh or bone. To sever hair from a girl's head would be an easy task for the gleaming bronze.
"No!" The word burst from my lips; the maidservants all paused in their work, staring, and Hattah turned her eyes from Aylah's tangled hair to me. I straightened my back and pretended my face had not flushed hot.
After a long moment, Hattah spoke. "Why not, little moon? Have you Seen that ill will befall if I cut away the knots and tangles? Has Our Lady spoken to you, sent you a Sign?"
I shook my head. "No -- at least, no Sign I recognize as such. But you must not cut it -- surely we can oil her hair, and comb out the knots? I will do it myself."
Hattah looked from me to Aylah and back again to me. "Very well." Hattah set the ivory-hilted knife aside and took up a sandalwood comb instead.. "Comb out her hair, Delilah, if you can."
Hattah handed the sandalwood comb to me. The comb had been well-made, its teeth polished smooth so they would not snare hair; across the wide handle serpents twined, their carven bodies weaving the emblem of eternity. It weighed oddly heavy in my hand.
The Mistress of the Baths stepped back, away from the still figure of Aylah. Hattah's meaning was clear: I had claimed the task, and now its success or failure was mine alone. Please, Star of the Sea, Lady of Love, grant me victory in this small thing. I will --
I would what? I had nothing to offer up in exchange for the Lady's favor. Nothing save my love for Her. O Lady Atargatis, let my hands be skillful and my touch gentle. Let me reveal the true worth of the jewel that has been placed in my care. Grant me this boon, my Mother, and I shall do whatever you ask of me. And let Aylah speak, if she can, I added.
I waited, but there was no Sign to indicate that the goddess had heard. Still, I must act as if She had agreed to the bargain.
I studied the tangled thicket that was Aylah's hair. Only her hunched shoulders revealed that she had heard my plea, and Hattah's acquiescence. I lifted the sandalwood comb, glancing from its shining wood to Aylah's dull hair. The comb alone would be useless. I took a deep breath and turned to Hattah.
"I must have a bowl of oil. Warm olive oil would be best. Will you have it brought here?" It was the first time I had given an order to one of the Chief Handmaidens, and that Hattah asked no questions, but merely sent a maidservant off to obtain what I had asked for surprised and pleased me.
#
Even after soaking Aylah's hair in warm olive oil, combing the knots to smoothness took all the afternoon, and I was tired and cross by the time my task ended. But my hard work was rewarded, for my new sister's hair lay smoothly down her back. The oil darkened its color, but that was easily remedied. Once again the bath maids scrubbed Aylah's skin, and this time they washed her hair too. As her hair dried, the maids stroked it with silk to make it shine.
At last Hattah nodded, and motioned to Aylah to stand before us. Only then, as twilight darkened the sky and the servants lit the oil lamps, long hours after I had led her into the bathing rooms, did we see Aylah's true appearance.
Skin white as new ivory, pulled tight over sharp bones. Hair pale as morning sunlight fell straight as a bowstring to her waist. Only her mouth had not altered; she kept her lips pressed together as if she feared words might utter themselves did she not guard against their escape.
Too thin, too pale, too silent -- but somehow all these faults did not matter. Despite her flaws, Aylah was beauty itself, fair as the jeweled image of Our Lady Atargatis that stood behind the great altar in Ascalon's Temple. I heard some of the maidservants sigh, envious.
"Once there's some meat covering those bones, you'll be passable enough, Aylah." With Hattah's prosaic statement, the odd sense of awe vanished. Aylah became once more just another girl new-come to the Temple. Of course, Hattah rarely spoke well of any of us, saying all girls were vain enough without her adding to our high opinion of ourselves. For her to call Aylah 'passable' was high praise indeed.
Now Hattah turned to me. "You -- Night-Hair -- take her to the Mistress of Clothing and have her dressed properly. And it's time and past for the evening meal, so get her something to eat before her bones slice through her skin. And yourself too. I don't want to see you both looking like starved cats."
I knew I could not help being too slender, but I made only a proper answer. I crossed my hands over my heart and bowed. "Yes, Mistress. All shall be done as you have ordered." I spoke softly, piously, hoping to impress my status, low though it was, upon Aylah; I had entered the Temple many years ago, after all, and she still a stranger to Our Lady's House.
I should have known better. Pride is a hidden stone on a path that seems smooth and easy. My earlier moment of command faded; now the Mistress of Baths regarded me without favor. "All will be as I order if you know what's good for you, girl. Now run along, the pair of you."
Flushed, I reached out for Aylah's hand, while counting myself fortunate that Hattah had not added her customary rebuke to girls she considered too prideful. "You are not yet Goddess-on-Earth."
"Come, little sister," I said, and pulled Aylah after me; she resisted, and I tugged her hand, glancing back to see why she did not follow. When our eyes met, Aylah shook her head; her cheeks burned red as mine had a moment ago when Hattah rebuked me. Aylah gestured, a flowing wave of her hand indicating her unclad body. I understood, and smiled, hoping to ease her worry.
"That does not matter. Only the priestesses and the women servants come here. You will have clothing soon enough."
Aylah ducked her head; honey-soft hair veiled her face. Her hair alone adorned her better than a queen's robe. I told her so, but all my flattery gained was a shake of her head. I hesitated, thinking that I could ask for a drying cloth to wrap about her. But I changed my mind and released her hand that I might untie the knots that held my spangled skirt close about my waist. Clad only in my plain underskirt, I offered my outer skirt to Aylah; she stared at me as I slid the silver-sewn garment about her and tied its strings about her waist.
"There," I said, and as I straightened, I saw the Mistress of Baths smile at me, and nod. Hattah's rare approval warmed me -- I had earned it twice within a short span of hours -- and I clasped Aylah's hand again and hurried her away before Hattah found anything else to criticize in my looks or behavior.
#
DERCETO
The land of Canaan was a land of gods, a land of goddesses. Men built great temples to these gods, these goddesses. When he sang these verses, Orev fitted their words with great care to the ears of those who listened. Sometimes the gods were evil and cruel, enemies of Yahweh. Other times, to other listeners, Orev sang of goddesses more loving than any mother. False gods or true did not matter to the song's own truth. And the men and women of Canaan gave all they possessed to these gods, served them as if they were living kings and queens, never seeing their own folly --
#
She was High Priestess of Our Lady's Great House in Ascalon, she acted, when the occasion demanded it, as Goddess-on-Earth. What more could any woman desire?
Bitter amusement curved her scarlet-painted lips. What more indeed? O Bright Lady, were you as foolish as I was as a child, when You were young?
Briefly, Derceto wondered if the gods ever had been young. She supposed it did not matter. The grinding-stone of Time wore away youth and youth's wild bright ambitions, until at last all that remained was smooth discontent, and the knowledge that no matter what the gods granted, never would it be enough. Not for her.
Once she had loved Atargatis with all her heart. That had been long years ago, when she had been only Derceto, New Moon in Our Lady's Service. Like every girl who set her feet upon the Moonlight Path, she had yearned to become High Priestess one day -- to be the Goddess's vessel on Earth, to rule as Lady of the Great Temple, a rank as high as that of a queen.
I wonder why I bothered. Did I think it would make me happy? Derceto supposed she must have believed that, long years ago. Before she had been Chosen and the crown of Atargatis had been set about her brow. I saw only the glitter, the gold, the beautiful men. The power. She had thought Atargatis's Crown would raise her high, set her above all others. And so it had. She need only lift her hand or utter one word, to have her lightest whim obeyed as absolute law. She wore garments and gems fit for Atargatis Herself. She commanded as Our Lady's lover any man for whom she felt even fleeting desire.
She was Derceto, High Priestess of Atargatis, trapped beyond any escape. She had held out eager hands for her own shackles. Now, far too late, she understood the smile with which the High Priestess Zimmarli had greeted death. As she watched Zimmarli slip away into the Land Beyond the Sunset, Derceto had heard the soft whispers of other mourners. "She smiles -- Our Lady must reach out to her." "See how she smiles, as if a lover awaits her in the Land Beyond."
See how Zimmarli smiles, to leave all this work behind her, to lay her burden in my hands. Derceto rubbed the mark Atargatis's Crown had pressed into her forehead. Now I know, Zimmarli. You smiled only because you no longer had breath to laugh. You knew how much I desired to stand as High Priestess before Our Lady's altar. And so you granted my wish. What better punishment for one you always thought too proud and willful?
For what Derceto had not seen was the labor behind the glory. The High Priestess not only stood in dazzling brightness as Goddess Incarnate, she ruled the Temple and all it possessed. Derceto stared down at the rolls of papyrus stacked neatly upon the table. A dozen at least, each a report that she must read, and consider, and answer.
Farms and orchards, herds and flocks, wheat fields and grape vines. For a moment Derceto longed to sweep the entire lot of meticulously scribed reports into the nearest firepit. Here I sit, studying the grape harvest and wondering what we must do if the rains are late again -- and all I hear from the Prince of the City is how sweet and pleasant my life must be compared to his!
In the eyes of gods and men, the Prince of the City and the High Priestess of the Great House loved each other as bread loved salt. They stood beside each other during feasts and festivals, performed flawlessly the rituals that shaped night and day, spoke honey-sweet words. In the eyes of those who dwelt in Ascalon the Beautiful, Derceto and Sandarin, Temple and City, served in devoted partnership.
I always thought most men and women blind. Derceto shook her head; heavy curls swept across her back. Absently, she drew one long ringlet over her shoulder, stroked the dark hair over the curve of her breast. Well-tended, her body still woke desire -- Sandarin could not truthfully complain his duty as Our Lady's Consort was displeasing. But Temple and City battled endlessly, and Derceto refused to surrender even a finger's-length of what belonged to her.
Not farmland, not sheep, not gold, not slaves. Most certainly not the right of first choice of any girls and young boys brought into the market from faraway lands. Derceto smiled as she remembered that struggle. Sandarin had lost, and was not likely to forget that humiliation soon.
But I will never let power slip out of my hands. I rule a domain as great as his.
Truly, in other lands she would have been called "queen" -- many rulers governed less than she did as High Priestess.
For a Great Temple was a city within a city. Its denizens must be fed and clothed and bathed, its rituals supplied with incense and oils. Within the walls of the House of Atargatis dwelt not only fully-initiated priestesses who tended the needs of their goddess, but dozens upon dozens of women and girls -- for bread did not bake itself, nor did skirts sew their seven tiers together without the aid of human hands.
As in any great queen's palace, the House of Atargatis required artists and clothiers, gem-carvers and idol-makers, bakers and cooks and sweet-makers; hairdressers, perfumers, and jewelers; seal-makers and scribes. Each task required someone to fulfill its demands: honey for the sweet-maker meant beekeepers to tend hives. Offerings to the Temple required scribes to set down what had been given, and by whom -- which meant clerks must cut reeds into pens, ensure that precious papyrus was not wasted, and that still others must prepare small clay tablets upon which yet another clerk would impress the name of the gift and the giver, and the Temple seal. Then the kiln-workers would dry the tablets, and finally a messenger would deliver this enduring record to the one who had given the Offering. Two generations ago, she who had then been High Priestess had decreed that each offering, no matter how small, must be acknowledged. Now the scribes and messengers and clay-workers occupied an entire building that had been erected outside the Temple to house them; the Temple wall had been opened and extended to enclose the new building.
That had happened long before Derceto had been given to the Temple -- And I am no longer young -- but the Court of Scribes was still called "the new court".
And all the skills that the priestesses were taught required those who could teach them. Dancing and singing were only two of the talents a priestess needed. The womanly arts any girl must know, such as spinning, weaving, and sewing, must be learned as well. So there must be those who could teach such tasks.
As a priestess passed through the gates from one Court to the next, she gained not only knowledge, but tangible marks of Our Lady's favor. A fully initiated priestess wore her hair knotted up with scarlet ribbons; from the sacred knot, symbol of the Bright Goddess, long curls fell down her back. The sea's blue and green glittered upon her eyelids; the crimson of blood gleamed upon her lips and cheeks. A wide belt of red leather girdled her waist above a seven-tiered skirt whose colors proclaimed her precise rank and function. Golden doves rested upon her breast and golden bees hung from her ears; golden snakes circled her arms. The tips of her breasts, too, glittered gold.
The work of a dozen men and women produced the image worshippers saw when they gazed upon a Full Moon of Atargatis.
Such a priestess wore gold and gems, but her most precious adornment was the tattooed serpents that coiled from her elbows to her wrists, slid in blue midnight shadows beneath her skin. The bracelets of gold might be set aside. The serpents that dwelt beneath her skin remained with her forever.
So in addition to all else, the Temple required artists who could incise images into the skin, as well as apprentices to grind paints and hone needles to the sharpness of a bee's sting.
And within the innermost Court lay the sacred pool in which seven fish-oracles swam in lazy, well-fed circles, awaiting petitioners who would see the future. Their names were Utu, Nanna, Enki, Inanna, Gugalanna, Enlil, and Ninurtu. Temple tales claimed the names, and the fish, had been brought from a land far to the east. The fish gleamed bright as gems; Utu, whose scales glowed like polished gold, was the largest and the most important. Each fish had its own servant who fed it, and who cleaned the turquoise tiles that lined the pool.
In the Temple kitchens, there was a cook whose only task was to grind and mix the special food that the seven servants scattered over the placid, clear water of the sacred pool so that the seven fish might eat of it, if they chose.
Sometimes I wish I were one of those fish. To have nothing to do but eat and sleep, to swim endlessly in pretty circles --
"My Lady Derceto?"
The Master of the Temple's eunuchs had come in soft-footed as a cat; he knelt before her and lifted the fringed hem of her skirt to his lips. High Priestess Derceto gazed down at the Master of Eunuchs, seeing only his bowed head as he awaited her permission to rise. He would kneel there for hours if she chose to remain silent.
She made him wait just long enough to trouble his mind, set him searching his memory for anything within his purview that might have offended her, before she bade him stand. Power still tastes sweet. She smiled, and saw the Master's face smooth, his mind eased by the mere curve of her lips. And as she listened to the Master of Eunuchs, Derceto forgot her fleeting wish that Bright Atargatis transform her into a fish.
#
A girl had been purchased in the slave-market, the Master of Eunuchs told Derceto -- she could not imagine why this should interest her, until she learned that one of the Prince of the City's servants had been staring at the creature, as if tempted to purchase her. That interest had been sign enough for the High Priestess's servant instantly to bargain for the dirty child. He'd paid far too much, simply to keep the Prince's servant from gaining even the smallest of victories over the Temple.
He'd been appalled, too, at the child's condition. The seller was a fool, and how much a fool had become apparent only after the girl had been cleaned and combed and fed. The grime had sluiced away, unveiling a golden pearl -- a pearl his action had gained for the Temple.
Derceto gazed unblinking upon her Master of Eunuchs. Yet another tangle. Did it not occur to my most loyal and most foolish servant that Sandarin might have set this strange girl in his path as a snare?
At last Derceto sighed, and said, "Bring the girl to me. I wish to look upon her." And then, "No. I shall go to the Court of the New Moons and see her there."
Derceto knew one simple way to end any uneasiness over the girl's true origin, even though it would not answer the questions. As the Temple had bought her, so too could the Temple sell her -- possibly even to the Prince of the City himself. That would be amusing, especially if Sandarin had intended the girl to act as a spy within the Temple.
But her visit only added to Derceto's endless worries. After the next morning's ritual, she had gone in all her finery to the Court of the New Moons, and there endured wide-eyed stares from twice-a-dozen small girls, and wails from two of the youngest, who were startled by the sight of her elaborate headdress.
And when she looked upon the new girl -- a girl who glowed like a sea-pearl -- Derceto knew she had come too late. For the golden stranger stood with her fingers entwined with those of one of the Temple's true treasures, the girl called Night-Hair.
Already it was clear that Delilah -- a girl whose family had paid handsomely to gain her a place as one of Atargatis's Daughters, and for whom the Mistress of the Dance had great hopes -- loved the new girl, Aylah, dearly. Selling Aylah would distress Delilah, and it would be foolish for the Temple to give Delilah any cause for grief. Those who taught and tended the New Moons swore Delilah would one day earn great wealth for the Temple.
More important, the Seven Fish foretold that Delilah would become the greatest priestess the Temple would ever know. "A fire undying."
Still, oracles could be overturned, by a greater fate or by a more powerful passion. Delilah's love for the Temple must not be allowed to lessen, to falter.
So Derceto had merely smiled upon the awed children, and gone away again, knowing she would lose too much sleep as she tried to decide whether the man who sold Aylah had been a mere fool, or Sandarin's clever agent. Could any man be so stupid he sold a child such as Aylah in so neglected a state she brought little profit? Had Sandarin deliberately placed Aylah in the way of Derceto's servant, knowing he would bid against Sandarin's man? Was Aylah simply a silent, docile girl, or a well-tutored tool of the Prince of the City?
Another night I shall not sleep unless I drink poppy syrup. Derceto rubbed her temples with the henna-red tips of her fingers. Poppy syrup and valerian, to grant her sleep without true rest. I wish I slept as well as the Prince of the City shall this night!
#
SANDARIN
Mortal consort of an undying goddess. Lord to Our Lady. As a beloved to his beloved -- so was the Prince of the City to the High Priestess of the Great House of Atargatis.
Sandarin listened as the chief of the palace eunuchs oozed flattery, waiting for the bitter news hidden within all this sickly sweetness. For no one knew better than those who served in the City Palace how ill-suited were the Lord and Lady who ruled over Ascalon the Beautiful. In the City's name, why can no one ever speak plainly, and to the point?
Save for his brother Aulykaran, who never flattered, Sandarin knew himself hemmed in by sycophants. Those who supposedly serve me would tell me black was white and snow, fire if they thought such nonsense would please me. How am I to choose aright, to decide what is best, if I cannot trust my advisors to give me truth?
"O Beloved of Lady Ascalon the Beautiful, Lord of the City Walls, Keeper of -- "
Sandarin lifted his hand; rings heavy-set with emeralds, the gem best loved by Atargatis, flashed green fire. "Jaleel, there is no need to drone through each of my titles. We both know them. Now tell me plainly what brought you here -- without veiling the matter in endless layers of useless words."
"O Lord of the City, I but thought to ease what you must hear."
"O Lord of the Palace Eunuchs, I think perhaps another, who reveals what I must hear, should replace a servant so fearful."
Sandarin threatened this at least once each moon -- but this time Jaleel did not retaliate with his usual complaint that he was an old, old man, and that if his hard work no longer pleased the Prince of the City, perhaps Jaleel should leave Palace service. Instead, Jaleel hesitated, and never before had Sandarin seen the Chief Eunuch fumbling for words.
At last Jaleel said, "O Prince, I have failed you. There was a child offered up in the marketplace -- a girl. The seller seemed a fool -- the girl had been brought from a faraway land, and had she been cleaned and well-tended, would have commanded as much as a necklace of matched sea-pearls. But she was nothing but dirt and bruises."
And I care about this -- why? Sandarin did not voice this thought; he nodded, indicating Jaleel should continue.
"The City's servant would have passed her by, save for the fact that the Master Eunuch who dwells in the Great House of Atargatis seemed intrigued by her. Lest the Temple gain her, your servant offered a high price for the girl -- only to have the Temple bid higher. At last, your servant saw it was useless, for clearly the Temple meant to possess the girl no matter her price. And now I lay this knowledge in your hands, my prince." Jaleel bowed and drew back, to stand with folded hands, waiting.
You all mean well, but why, Blessed Atargatis, must I be served by well-meaning fools? Sandarin forced himself to smile. "My thanks for your news, Chief Eunuch. I trust you to convey my gratitude to the servant who acted so on behalf of the City Palace, and reward him as you deem fit."
There; a safe enough command, one that would ensure Sandarin need not face the man who had nearly purchased disaster.
Does it occur to no one but me that the Temple may have placed that girl in the path of my servants? That she may have been a snare, a spy to dwell beneath my roof, to lie with me in my bed? Well, you have failed this time, Derceto. Sandarin thought of the High Priestess's fury when she discovered that the Temple had paid over-well for the privilege of acquiring its own snare. I wish I had been there to look upon her face at that moment. I wonder what she will do with the girl now?
#
AYLAH
Never in all her life had she been so clean -- not even before raiders had stolen her from her tribe and she had started upon the long road that had led her here. It had taken long hours for those who now owned her to free her from the filth that shielded her, hid her true coloring. She had hoped, at first, that the stern-faced woman who commanded those who bathed her would cut off the long tangles of her dirt-dull hair. With her hair shorn, her worth diminished.
But the night-dark girl into whose charge she had been given refused to be defeated by knots and grime. The dark girl had labored long, and with great care, until at last she had triumphed. And then she had stared, as Aylah had known she would; as all stared when they saw Aylah's hair gleaming smooth and bright as gold.
Those who had tended her fell silent; one of the maidservants reached out as if to touch that shining fall of hair. Aylah wished, now, that she had fought these women, scratched and bitten them until they abandoned their efforts, as those who had sold her to them had. But she was tired of that endless struggle -- and she had been oddly unwilling to scratch and bite the dark girl, who tried so hard to be kind.
I will wait. I will eat, and gain strength, and then I will escape from this strange place. Aylah instinctively recognized a cage, however opulent and comfortable it might be. And this was a lavish cage indeed.
That night Aylah lay beside her new sister in a clean soft bed that only the two of them shared. Delilah slept easily, her breath gentle sighs upon the soft air. Aylah remained awake, savoring the odd sensation of comfort. I am not hungry. I am not cold. I am not tired.
She slid her fingers through her silk-smooth hair. I am not dirty. My skin does not itch.
Sleeping, Delilah flung out her hand; her fingers touched Aylah's, as if they wove a pattern through Aylah's pale hair. And Delilah likes me. Already Aylah knew that Delilah's fondness for her ensured safety, at least for a time. Aylah had learned to read men and women's thoughts from the lightest shadow upon their lips, smallest flicker of their eyes.
The High Priestess would have sold me again, had I not been with Delilah. Aylah smiled in the darkness, and curled her fingers around Delilah's. I did not chose this temple, but here they will feed me and clothe me. So I will not run away from this place. Not yet. Aylah's greatest virtue was patience.
I will wait. And I will make Delilah love me, and she will make the others treat me kindly and well.
Content with this decision, Aylah closed her eyes. Still holding Delilah's hand, she allowed herself to sleep at last.
#
DELILAH
I was pleased that the High Priestess came herself to gaze upon my new sister, and nod that yes, Aylah was favored by Our Lady, would bring honor and riches to the Temple. When I told this to Aylah, when High Priestess Derceto had gone away again, I learned that Aylah was not mute, as I had half-feared.
"She does not like me."
Those were the first words I heard Aylah speak, and they shocked me. "Of course she does. The High Priestess loves us all." So I had always been taught, and I had no reason to doubt this truth.
Aylah stared at me, silent again. "No," she said at last, and then, as I tried to think what to say, she twined her fingers through mine. "You are good and kind, Delilah. May I have more to eat now?"
I smiled, and squeezed her hand. "Of course. There is always bread and cheese in the kitchen, and sometimes honey-cakes. Come, I will show you the short way."
So began the second road I walked through the time allotted me by Our Lady Mother. This road I walked hand-in-hand with a sister dear to me as though we had been of one birth. Good food soon softened the sharp angles of bone beneath her skin, careful lessons soon taught her how to behave in the House of Atargatis. Unlike me, she did not utter the first thoughts that came into her head, but kept her words locked behind closed lips until she knew what words would be wise to speak, and when.
She was always wiser than I.
But it was long years before I learned that; wisdom hard-won. While we both dwelt within Our Lady's House, I thought us equal in all things -- save those in which I thought Aylah surpassed me. Was Aylah not the sister of my heart, a gift bestowed upon me by Atargatis Herself?
When we told Hattah we wished to become true heart-sisters, we were let to chose whatever charm we wished from the jewelry-makers' workshop, that we might exchange sister-tokens to seal our bond. I chose a coral amulet of a fish for Aylah, and she, after much slow deliberation, gave me a lion's claw bound with copper wire. Once accepted, such tokens were worn always, knotted into a strand of hair.
A sister like me and yet unlike -- she spoke words I had never even dreamed of uttering. She came to us a stranger from a far land; even she did not know where her first home lay.
"Strange men came to our land and took what they wanted. Horses, furs, women. They wanted me, and so they took me as well. It was because of my hair; it is an unlucky color."
"It is a beautiful color," I said. Her hair shone pale as dawnlight when the sun stroked its length.
Aylah shrugged. "Gold summons greed. No one sees me. They see only my yellow hair."
"That is not true, Aylah. Everyone here loves you."
She looked at me with an expression I could not understand, fond and rueful, as if I were a small and foolish child and she already wise as the Goddess-on-Earth. "They value me. That is not love. My hair and my eyes -- that is why Derceto's servant Summati bought me for this Temple. That, and -- "
"And what?" I asked, as she stopped, and she only shrugged.
"Is that not enough, Delilah? I am here now." Her words seemed to drop from her lips like cold stones.
I stared at her, trying to understand. Surely she could not be unhappy in the House of Atargatis? "But -- " Oddly, I found myself seeking words, I who too often spoke too freely. "Don't you wish to live here, to serve Our Lady Atargatis? To be a priestess? You could be High Lady of the Temple one day. You could be Goddess-on-Earth."
"No," she said, and that was all she said that day. And for once, I did not tease her to tell me more. I think, now, that I was afraid of what I might hear, if I forced her to speak.
But that day, I thought only that I was right, and Aylah too modest. There must have been a reason she had been brought into the Temple; I decided that Lady Atargatis had desired Aylah for her daughter, and guided Summati the day he had gone to the bazaar to buy spices, and had returned instead with a silent child from beyond the lands we knew. I knew the reason in my bones -- my heart-sister would someday reign as High Priestess of the House of Atargatis.
I could not even hate Aylah for this; were I the goddess, I too would choose Aylah over myself. I consoled myself with the knowledge that I, as Aylah's heart-sister, would stand above the others of Our Lady's Priestesses.
But any status we might earn was still long years away; now we were both merely New Moons in the Lady's House in Ascalon. We had much to learn before we would be permitted to act as the goddess even in small rituals.
#
SAMSON
"Now there was a village called Zorah, and in that village lived a good man named Manoah, a man whose good wife had no child. No child, and they both growing old. . . ."
#
The trouble that followed Samson through life like an over-faithful servant began even before he was born. Orev sometimes wondered if any of what followed would have happened if Samson's parents had owned even a handful's more wisdom between them. But that question Orev never asked aloud; he had learned very young that silence repaid threefold rewards.
Later, when all the passion and pain lay long years in the past, Orev often began his songs of Samson by saying, "Samson was a great hero and a simple man, and his tale begins simply...now listen, it happened in this way. . . ."
And, in a sense, all had happened as Orev sang it now. Truth wove through songs as a thin thread of gold through an embroidered robe. Sometimes the gold gleamed bright; sometimes the gaudy colors of the other threads hid it utterly.
"Listen, it happened in this way. . . .
#
Men never think children overhear what is said. Women know children listen, but like to think they do not understand. Orev learned a great deal simply by keeping his own mouth closed as his elders talked. Silence was nearly as good as being invisible. What interest could a boy playing silently with a bit of string or a wooden peg have in the chatter of his elders?
A great deal, of course. Staring intently at the cats-cradle tangling his fingers, or moving a wooden peg about as if it were a shepherd and pebbles its sheep, Orev heard almost everything that passed in Zorah.
Not that overmuch of import happened in the village. Zorah lay on the border of the lands claimed by the tribe of Dan; the lands of the tribe of Judah began only a valley and a hill to the south. A small village on the edge of the smallest tribe, until Samson's arrival in the world the only thing of interest that had happened in Zorah was Orev's birth. And that, Orev knew, was of interest only to him.
Samson's birth, on the other hand, embroiled all Zorah in violent argument and in whisperings behind veils. And all, Orev knew, because Manoah and Tsipporah were neither dull enough nor clever enough to hold their tongues.
#
Manoah had married late, as men must who are not rich in land and flocks. His wife, Tsipporah, was half his age, neither pretty nor plain, and came to him with a dowry consisting only of a chest of linen and herself. A good enough bargain for both. Zorah's folk happily celebrated the marriage and awaited news that Manoah's wife had conceived. Why else did a man marry, after all, but to get sons?
Orev himself had been born just before that wedding, and sometimes thought he remembered it -- although he knew he remembered only hearing of it many, many times. Not because the wedding itself had been anything out of the ordinary, but because of what came later.
By the time Orev was fourteen, it was clear to everyone that Manoah had chosen his wife unwisely. "Fourteen years wed, and no child." "Well, what did he expect? He should have married a widow, one who had borne children." "She should pray harder to Yahweh." "Perhaps it is not her fault, but -- "
But that the blame might lie with the man, and not with the woman, was hinted at only in whispers, and by the older women. Orev knew he heard such words only because he sat silent, and never reminded the women he had keen ears. And because he had been born with a clubbed foot, and so must, in the minds of many, be dull-witted as well as lame, they often spoke freely even when they knew he sat within earshot.
#
"But Yahweh watches over His people like a loving father. And lo, one day Manoah's wife went into the fields, and there she met an angel, Yahweh's messenger. And the angel told her she would bear a son -- "
#
An aging husband, a barren wife -- a common enough misfortune. Had he been a wealthier man, Manoah might have taken a second wife, or a concubine, or bought a handmaiden to serve Tsipporah -- any one of the three would have been good enough to get sons upon. But like most men, Manoah could not afford a second wife, or a concubine, or a handmaiden to serve his wife.
Then, when any sensible man would have long since lost hope, Manoah proudly announced that he had been greatly blessed by Yahweh. His wife was at last with child.
And then, when any sensible man would have closed his lips, and smiled, Manoah spoke half-a-dozen words too many.
Although that hardly mattered, as by the time Manoah spoke to the men of Zorah, every woman in the village already knew that Tsipporah claimed to have met an angel in the fields.
Orev himself had heard her, and could think only that if Yahweh were truly merciful, He would strike Tsipporah dumb before she could utter another word. Why say anything at all, save that she was at last with child? Why answer questions no one had asked?
#
"A son who would be strong and great, a hero who would deliver our people from the yoke placed upon their necks by the Philistines. . . ." Or, if Orev sang the Song of Samson to those who were not Hebrews, "A son who would be strong and brave, a hero who would do great deeds. . . ."
#
A dozen generations ago, Samson's forefathers had come into this land as conquerors. The great and ancient city of Jericho had fallen before them. But to the surprise of the surrounding kingdoms, the Hebrews had not claimed Jericho as their own. The Hebrews, who might have ruled Jericho and its land, had instead destroyed the city and its mighty walls; not a stone left upon another. The ruins of Jericho remained their greatest battle prize. Only owls and jackals inhabited the shattered city now.
Once Jericho had been swept away, the Hebrews seemed to lose interest in conquest. But the lesson of Jericho remained, and for half-a-dozen generations the Hebrews had gone where they pleased, driving their flocks from plains to hills as the seasons demanded. No one dared hinder them, and they did not demand much of the lands they ranged over.
But that time, too, had passed. The Sea People had swept into Canaan from the west, gradually claiming the land for their own. Now the Hebrews dwelt in the hills, existing peaceably, but on Philistine sufferance. Somehow, in the lifetimes that lay between Joshua's triumph and Samson's birth, the Hebrews had surrendered power to the rulers of the seacoast and the fertile plains. The Five Cities ruled Canaan now.
How that had come to pass, no one living could quite explain.
"It is because the Five Cities are ruled by a single lord each. No one argues with him when he passes a law, or claims a tax." This was Manoah's opinion, oft repeated. Several of the men who sat with him under the olive tree by the village gate nodded agreement. Others shook their heads, and Hamor drew in his breath and began the same counter-argument he raised each time the topic was discussed.
"That is folly, Manoah. You might as well say it is because they have a city wall. It is clear that the true reason is the gods of the Five Cities -- "
"Do not say again that many gods are stronger than our One. What have the gods of the Philistines ever done half so wondrous as -- "
-- the deeds Yahweh has performed? Orev finished silently, and began moving away from the arguing men. If he moved slowly and with care, he could walk almost as well as any other young man. The clubbed foot that marred him, marked him forever as lesser, inferior, he could not change. But he could pretend, at least to those who watched, that the painful weight of his malformed foot did not matter.
It did, of course. Orev never deceived himself; he knew he could not afford that luxury.
" -- why, my own wife, barren these many years, now bears fruit, thanks to Yahweh's greatness. Now tell me, Hamor, can the idols of Philistia do as much?"
Yes, high time to go elsewhere. The conversation was about to turn heated, and Orev knew precisely who would say what. Boring.
Having left the circle of men, Orev headed down the hill from the gate to the well, where the women stood gossiping. Tsipporah, Manoah's wife, smiled at Orev as he approached. "Have you come to carry my water jar for me, Orev?"
Without awaiting his answer, she continued talking. "You have had six children, Serach - tell me, did you crave strange foods when you were carrying a child?" Tsipporah didn't give Serach a chance to speak, quickly adding, "I crave all manner of things forbidden to me now. Wine, and meat, and -- "
Orev watched the two oldest women in the village whisper to each other behind their hands. He liked Tsipporah, who treated him kindly, even if her kindness sprang more from an inability to notice anything that did not directly affect her comfort than from a greatness of spirit. Unfortunately, like her husband, she also didn't know when to stop talking.
"Let me carry your water jar, Wife of Manoah," Orev said hastily, and more loudly than he usually spoke. He reached for the heavy jar, lost his balance, tipped cool well-water over Tsipporah's feet.
"Have you no wits at all, Tsipporah? Orev can't carry a full water jar, and neither should you, in your condition." Basemath, wife of Asher, the wealthiest man in the village, began issuing orders. "Orev, go to my house and tell my handmaid Ellah to come carry water to Manoah's house. And you, Tsipporah, walk with me. You remember that I promised you my recipe for spice-cake."
As simply as that, the immediate danger vanished. Tsipporah walked off up the hill with Basemath, and Orev headed towards Asher's house, as its mistress had bidden him.
You are a kind woman, Tsipporah, but neither you nor your husband has the sense Yahweh granted goats. Even at fourteen, Orev knew how to judge men and women -- another skill he had needed to learn young.
After giving Basemath's message to Ellah, Orev continued on past the house and its garden, into the small orchard on the hillside behind the village. There he lowered himself carefully to the ground beneath the oldest olive tree in Zorah and stared back down at the clustered houses.
The sun stood at zenith; light poured down over the mud brick buildings like molten gold until the village seemed formed of the precious metal. At midday, no shadows lurked between the houses or along the low stone walls.
Manoah's house lay at the northern edge of Zorah, farthest from the village gate and the path down to the well, and had been built against the village wall, which formed the back wall of the house itself. Orev studied the house: small, old, and rather shabby-looking, Manoah's dwelling possessed a singular advantage. A woman who did not wish to be seen leaving Zorah could easily slip out through the midden gate. Manoah's house itself would hide her from inquisitive eyes.
And then, if she choose, she could walk swiftly away. Once over the rise of the hill, an hour's walk southward would take her to the Lady's Grove at Timnath. . . . Was that what Tsipporah had done? If she had dared enter Timnath's Grove on one of the nights of the full moon, she could have found half-a-dozen men hot to lie with her before she had taken as many steps. If she had done so, who could blame her? Without a son to care for them in their old age, how would Manoah and his wife survive? No, Orev couldn't blame either Tsipporah for daring so greatly or Manoah for proclaiming himself blessed by Yahweh.
And if Manoah and his wife had merely announced that she had at last conceived, the villagers would have congratulated them, and that would have been an end to the matter.
Why did they have to proclaim themselves visited by an angel of the Lord? Manoah should just have said "My wife has been blessed," and no one would have thought any evil. Now --
Now there was gossip, and harsh whispers, and for all the coming child's life, unkind people would be able to doubt. There would be trouble.
#
Orev realized later that he'd made the same mistake he often silently chastised others for: underestimated another's power to bend events to their own will. For Basemath had used her unassailable position as the well-dowered wife of the richest -- and therefore the most important -- man in Zorah to force public compliance, if not private silence, with her implacable acceptance of Tsipporah's story. Orev also listened outside the wall as Basemath ordered Tsipporah never again to mention angels, and that Manoah must seal his mouth as well.
It was the first time he'd witnessed small power used for great good. What, after all, was Basemath but a woman speaking to another woman? Yet the silencing of Tsipporah meant that the harsh gossip faltered and faded. By the time Tsipporah's son was born, not only did no one bring up the child's questionable paternity, but several of the women admiring the sturdy infant swore they remembered Manoah's father, or possibly his grandfather, had also had just such golden hair.
And as if to prove they had nothing to conceal, Manoah and Tsipporah bestowed upon their son a name honoring his sun-bright hair.
Samson. The son of the sun.
#
As if Samson's very birth blessed all within his village, soon after Orev found himself granted something he had not dared dream of: a way to earn his place in the world -- more, an honored place. For a harper traveling south from Shunem lost his way, and wandered into Zorah tired and hungry and offering to sing a tale of great deeds in exchange for his food and lodging. Later, Orev realized that Balim had been, at best, a poor harper and worse singer -- but the man could weave a song out of any story, turning dull acts into grand deeds. With the rest of the villagers, Orev listened as the harper Balim sang of how the warrior Joshua had slain forty times forty men. And then, to please the women, Balim sang of a pretty widow who followed her husband's mother to a new life with a rich new husband.
Balim swore the tales all true, which Orev doubted. But the telling of them drew Orev; out of nothing, the harper created life. More, it was a task Orev thought he could emulate. A lame man was useless, a burden. A lame harper gleaned praise and payment.
Before Balim left Zorah, Orev had vowed he too would become a harper -- and a better one than Balim. All he needed was a tale to tell, and a harp.
"Songs are everywhere," Balim told him. "That one of the widow -- I heard it as gossip by half-a dozen wells down near Bethlehem. And most men and women will listen to anything that lets them rest and laugh and weep for others."
"I need a harp, too," Orev said, and Balim had smiled and untied the cloth he carried his belongings in. He pulled out a harp that even Orev could tell was old, its wood dry and its strings fraying.
"Take this one," Balim said.
Orev accepted the harp, thinking already how he would oil the wood to make it shine again. "Why?" he asked, and Balim shrugged, as if handing a harp to a boy he barely knew was of no import, rather than a great gift.
"Because all harpers are brothers, I suppose. And because you are the one who truly listened to my tales -- I could see you thinking how you would sing them better, you know. And because I'm tired of carrying my old harp as well as my new one. But don't go telling people I taught you, because I have my reputation to think of, boy."
Orev had thanked him, and promised he would say nothing, if Balim would only show him once how to coax music from harpstrings. The bargain struck, Balim remained another day, taught Orev enough to begin. Creating songs proved simpler than Orev had feared; unexpectedly, he had found his true gift from Yahweh.
He was no longer Orev, the crippled orphan. He was Orev, Zorah's harper.
As if in gratitude, the village of Zorah provided Orev with the substance that formed his greatest song.
Samson.
#
Samson grew swiftly from infant waving his hands at everything he saw, as if trying to grasp the world, to a boy asking endless questions that no one quite knew how to answer. Oddly enough, it was Orev who became the boy's closest friend. Life opened few gates for a lame man; luck and determination had led Orev to one that opened a path to honor and praise. A harper needed tales to tell, and a boy whose birth was foretold by an angel provided food for at least one song. Orev did not realize, at first, that Samson's life would become the heart of his own, be the spark that kindled an undying flame in his songs. Orev was already nearly grown when Samson was born, and what interest did a babe hold for a boy of fourteen? But as Orev grew into manhood, and Samson became a sturdy boy, Orev found that Samson owned something worth more than the size and strength bestowed upon him by their god.
Samson also possessed a kind heart.
By the time he was seven, it was simply a fact of life in the village of Zorah that Samson would willingly shake rattles to amuse infants as their mothers baked or spun; happily pick stones out of the fields to clear them for planting; carry water jugs up the hill from the well; sit patiently as the eldest woman in the village droned endless complaints.
So of course it was Samson who befriended Orev, the lame harper. At first Samson's cheerful interest had angered Orev. Too good to be true, had been Orev's thought, when Samson asked, most politely, to sit and listen as Orev labored to master the skills he hoped would be his livelihood. And then, Must I suffer watching Samson flaunt his perfection? Do I not endure enough without being forced to admire the angel's son?
But before he could summon the words to send the boy away, Samson asked, with the shattering frankness of the very young, "Why does your face look like that?"
Odd words, to change a life forever, but they made Orev look again at the boy standing before him. Samson regarded Orev with eyes clear and blue as the summer sky, waiting.
"Because I was thinking unkind thoughts," Orev said. "Do you truly wish to listen as I work?"
"I like songs." Samson apparently took Orev's question as permission, and sat down cross-legged at Orev's feet.
"You may not like mine. I am not going to be singing whole tales, but practicing, testing to learn which words sound best together, and how many times I must repeat them -- or if I must sing them only once."
"Like Abner with his spears, only with words? All right. Test them." Orev looked down at Samson and fought the urge to laugh. No, you have no pride, Samson, but you have something that may prove even more dangerous -- you are as stubborn as a badger. Most would let Orev alone, unless they needed something from him. Samson insisted that Orev open himself to another's interest.
Ah well, he's only a boy, no matter how highly he's regarded. It can't hurt me to befriend the darling of all the village.
"Very well, Samson, I will test my songs, and you will listen and tell me if they sound well or ill."
"Will they be true songs?" "Are not all songs true tales?" Orev suddenly wished he had spoken less freely; there were tales it was not wise to examine too closely.
"My mother says," Samson began, and Orev held up his hand before Samson could mention angels.
"And a boy should listen to his mother, and obey her, of course. But is your mother a harper? No, of course she is not -- "
"Why aren't women harpers?" Samson asked, and Orev grasped this distraction; discussed the matter as if it were of serious import. Orev neither knew nor cared why women were not harpers -- but he did know it was better to argue whether a girl might sing for her living as well as a boy than answer awkward questions about a mother's bed-time tales.
Pious truth or blasphemous lie, Tsipporah? Neither is good for your son to hear. Did you and Manoah never think what a burden you laid upon the boy's shoulders? Samson -- son of the sun -- could you not at least have named him something less potent?
Orev gradually turned their talk back to how songs were made. "Like a pearl, they contain a grain of hard truth. But they are coated with pretty words and polished with dreams. That is how men create songs -- much as women weave thread into cloth, and then embroider upon that cloth until it becomes bright with -- let us say with scarlet poppies.
"Now, if I weave dreams and truth together well in my songs, men will think them the same. That is the truth of songs."
Proud of this explanation, Orev reminded himself to memorize those fine words to use again. He smiled at Samson, who regarded him with grave eyes and said,
"But isn't that the same as lying?"
Oddly, Orev felt the urge to laugh, rather than to smite the boy. Orev set his harp aside and laid his hand on Samson's bright hair. "Yes, in a way. And no, in another." Orev reached for the harp again, and set his fingers upon its strings.
"Now listen -- Once there dwelt a man who longed for a good wife. A fair maiden pleased his heart, and it pleased him to work many years to win her. Many years he labored, and was repaid, repaid at last by two good wives instead of only one. Do you recognize the tale?"
Samson shook his head. "Is it new?"
"No, it is very old. Tell me, if I sing it thus -- Many years he labored, and was repaid, repaid with the fair maiden's sister, a woman he did not desire -- now do you know the tale?"
Samson stared at him, reproachful. "That isn't fair. You didn't sing it the right way the first time."
"It is still Jacob's story, and Rachel's, and Leah's, is it not? There is no right way to sing a tale, Samson."
"Is there a wrong way?"
Orev smiled. Those who think this boy dull-witted merely because he is strong and sweet-natured are fools.
"A good question, Samson. Yes, perhaps there is a wrong way -- but I like to think that all ways to sing a tale are right."
Samson nodded, grave. "Let's walk back now. Mother's baked honey-cakes today." He picked up Orev's harp and started off up the hill.
Orev looked up the hill after the boy. The setting sun's rays turned Samson's hair into a halo of fire, as if he were a beacon of light. I don't know whether you're not ready for the world, Samson, or the world's not ready for you. What I do know is that your life is never going to be simple, or ordinary.
Perhaps his father was an angel, after all.
That Orev had watched and worked and formed himself into a harper eased his way in the world. A lame boy could be treated as a village pet -- especially when he ensured his good treatment by being a village servant. But a lame man needed a safe place in the world; a harper received respect and, if he were good enough, glory. More important to Orev, at least when he began his career as harper, those who entertained with tales in song were fed and lodged. Orev sang out a modest living in his own village, and in a dozen others within a three-day walk.
Until the day young Samson questioned him, Orev had never truly thought about the tales he sang, and why they were sung as they were. To answer Samson, Orev had reached beyond his prosaic decision to learn to sing for his keep, seeking a better reply than "people will pay for harpers' tales". And in so doing, Orev had for the first time understood the wonder of what he could do, how a tale could be molded to change what men and women believed. As if he had reached for a plain clay cup and found that true gold lay beneath, Orev thought.
Or as if he had finally let the songs touch his own heart, as well as the hearts of others.
For that, he would always be grateful to Samson.
#
DELILAH
Now in those days women did as pleased them, with no man to say them nay. It pleased priestesses to dance before the image of their goddess. It pleased men to offer silver and gold and jewels to see such women dance.
#
All New Moons were taught every task the Temple required; our talents were weighed and judged, and our paths carefully decided. I knew how I wished to serve, and prayed that I would be chosen to dance before Our Lady.
I danced well, but so did a dozen other girls. I slipped out of my bed at night and practiced long hours in the garden, seeking to gain advantage over the others. But although I knew that the goddess's love danced through my blood like hot wine, I could not be certain that I would be chosen merely for my own talent. But I possessed an advantage in the dance that other girls did not.
Aylah.
For Aylah was more than my heart-sister; she became my mirror.
She was sun to my shadow, sweet as new honey where I was tart as unripe apples. Even our bodies mirrored each other as we grew, for Aylah ripened into a gold and ivory goddess, her breasts and hips full and shapely. I grew as tall as she, but my body remained slender, my curves subtle. When we practiced -- for I loved to move to music, and Aylah seemed to find pleasure in that too -- it seemed to me Day and Night danced together.
And that, I hoped, would be something only Aylah and I could offer to Our Lady's service. The Temple's dancers not only danced to honor and praise Bright Atargatis, but to draw gifts to the Temple. Dancers performed in wealthy households, at great feasts and festivals; such service must be richly rewarded. The more acclaimed the dancer, the greater the offering made to gain her talents for an evening, or for a night.
Aylah and I practiced together so often that when we stood with the other New Moons of our age, and were told we would all learn the first dance in Our Lady's honor, I felt no fear at all as we paced the undemanding steps. I knew Aylah and I would impress Annemil, the Dance Mistress, with our skill and grace. And when I slanted my eyes to see her face, I saw Annemil smile as Aylah stepped and turned in the simple pattern.
Our Lady's dances were of such importance to Her worship and Her Temple that all New Moons trained before the Dance Mistress for half-a-year. She watched, and judged, and decided who should continue training, readying them for the Dance. As I had hoped and prayed for, the Dance Mistress chose Aylah and me to keep on as students.
"The two of you may be Called to Dance," Dance Mistress Annemil said, "but remember, I promise nothing, save that I will teach you the dances. Only the Seven know what you will become, or how you will serve Our Lady."
Overjoyed to be chosen to continue dance training, I barely heard the warning. I stammered my thanks and swore I would work harder than any New Moon yet had to become perfect in the Dance. Aylah said nothing, not even a murmur of thanks. Later, I asked what troubled her, that she had not spoken, and she said only,
"There was nothing I need say, Delilah. We all know it is a great honor to be chosen for this." Then she smiled, and since it was simplest to believe she jested, I laughed.
"Yes, and we will be the best dancers the Temple has ever seen since its first stones were laid down! I will dress as Night and you as Day, and we will wear jewels beyond price. And we will glean great offerings for Our Lady and Her House, and everyone will ask for us -- " Suddenly I feared I risked my good fortune by prideful boasting. Hastily, I added, "If we are Called to Dance when we become Rising Moons, of course."
Aylah smiled again. "I do not think you need worry over that. You will be Chosen."
She sounded so calmly assured that I took comfort in her certainty. Of course I wished to believe her, which made it simple for her to convince me that what I most desired would indeed come to pass -- and also to evade questions about her own wishes.
Aylah always seemed happy to dance along with me; I believed she too loved the things I loved. Later, when I had painfully gained wisdom, I looked back and wondered if Aylah copied me out of habit, because she did not care what she did -- and so my passions gave her an easy path to follow.
#
When we turned fourteen, our training as priestesses began in earnest; until then, I had not realized how softly the New Moons were treated. Rising Moons labored harder than any slave in the Temple's fields.
Fourteen was the age at which New Moons were taken to stand before the Lady's Mirror -- the sacred pool, into which we would look, so that the sacred fish might reveal our future.
"As if the Temple did not have our future laid out like the tiles on the dancing-floor," Aylah said, the day Klyti summoned those of us who were to look into the Mirror and told us to prepare ourselves for the ritual. Aylah's voice held nothing, neither pleasure nor resentment, as indifferent as if she said, "The Hunter's Star rises as Seven Maidens set." She stated a simple fact. No more, no less.
"Aylah -- don't you -- "
"Believe? Delilah, for four years the Temple has trained us to dance before Atargatis, and before any who offer enough to hire us to play goddess for their own pleasure. Do you think the Temple will set all that work aside and set us to other service? That we will be allowed to see anything in the Lady's Mirror that the Temple does not wish us to see? Or that the fish will say anything the Temple does not wish us to hear?"
For an instant my body ached, as if someone had struck a blow to my heart. How can she speak so? As if -- As if she did not trust Our Lady Atargatis. The thought so pained me I shoved it away. Aylah jested, I told myself; she often did so. This was but one more jest. So I laughed and said that the Mirror's fish would show Truth, as they always did.
"Yes, just as they always do."
That, too, I laughed at, as another jest.
But I felt uneasy in my bones; such jests held danger. I forgot it soon enough, for I was wild to look upon the fish-oracles, to hear what they had to reveal of my future.
#
The gate that led to the Court of Peace had been hung upon its bronze hinges so long ago that the ivory panels set within the cedar wood had darkened until they now glowed like honey. Images of Atargatis had been graven into the ivory: as queen gazing serenely from a window; as mother offering nourishment, her hands cupped beneath her round breasts; as dancer with the moon beneath her feet and stars in her hands. And above all these, in a single round plaque of ivory so old it was darker than amber, Atargatis as Lady of the Sea, half woman and half fish. The tale told of that image claimed it older then either Temple or City, carried here by those who fled the destruction of the Bull Court of King Minos.
I had also been told that the Atargatis portrayed in that ancient ivory held up a mirror, so that Her worshippers might gaze upon themselves and judge whether they were worthy of entering Her presence. But as I stood waiting with my sister priestesses for the gate to open, I could barely discern the half-fish form of the goddess. Time had blurred the outlines of the image. I could not see the mirror.
I longed to ask if Aylah saw a mirror in the goddess's hand, but did not dare. This was one of the most important rituals we would ever undergo; it must be done perfectly, lest our bright future vanish. There had been New Moons who had entered the Court of Peace by the ancient Ivory Gate and left again, not as Rising Moons, but as mere maidservants, or disappeared through some secret gate into the world outside, banished from Her service.
Or so whispered tales claimed. When I had warned Aylah of this, she merely said, in her calm way, "I have heard these stories too, Delilah. And never can the teller put a name to the girl who fell from New Moon to kitchen slave, or who was sent away, never again to enter Our Lady's Presence."
That was all Aylah said, but as always, her words made me stop and think. And when I considered the matter, I had to agree.
But that had been before I stood beside Aylah and waited until my name was called to enter through the Ivory Gate.
A dozen of us awaited the judgment of the fish that day, and I was the last summoned into the Court of Peace. It was hard to stand quiet for so long; harder because those girls who entered through the Ivory Gate did not return by that path. There was no chance even to guess what had transpired within the Court, what had been revealed about another's future.
One by one, the New Moons heard their names called by the Priestess Sigorni, Keeper of the Ivory Gate. Each New Moon walked forward when summoned and passed through the opened gateway. After each girl had passed through, the gate was closed again, leaving the rest of us to stand and wait.
Aylah stood beside me, of course. Inarrah and her heart-sisters Hehsedo and Tomyrit held hands, clearly as anxious as I. Inarrah owned the gift of Seeing, and her heart-sisters did not. No matter what path Our Lady planned for us, we all would remain in this temple -- and each of us hoped to serve with our dearest friends. My seeking eyes met Inarrah's; I tried to smile, and she to smile back. All we could do now was hope, and pray.
One by one, Sigorni the Gatekeeper called each girl's name, summoned her forward to pass through the Ivory Gate. Cabira. Ohlibah. Firdausi. Her twin sister Fajurnin. Donatiya.
Hehsedo and Tomyrit were called in their turns, leaving Inarrah clenching her hands at her sides. Her knuckles paled as her muscles tensed.
"Inarrah."
That left only two more New Moons: Aylah, and me. Time stretched, endless, and I began to fear we had been forgotten. Worse, we would be rejected --
And then Gatekeeper Sigorni called Aylah's name. Aylah reached out, fox-swift, and squeezed my hand; I had not realized my skin had grown so cold until I felt her warm fingers.
Then I waited alone, the last of all the New Moons to be judged by the Seven Fish, my empty stomach as painful as if a rat gnawed within it. Aylah must be given to the Dance, she must - I called back my uncautious prayer, realizing my error.
No, we must be together. Please, please let Aylah and me follow the same path through life. That is all I ask.
"Delilah." Priestess Sigorni's quiet utterance of my name cut my desperate plea short. I took a deep breath and stepped forward to walk through the Ivory Gate and learn whether my prayer had been answered.
No one had ever warned me that a god's answer might hold more peril than a demon's curse.
Or that the granting of all I desired might destroy all I held dear.
Buy this book from any of the following sellers